Scroll naar beneden voor Nederlands
It all began with the recruitment of Rolf Dietrich and a very special secret mission into Scotland … Why became Dietrich a member of … uhm – what exactly? and why was Scotland during World War 2 so important? How is this mystery tied to the birth of the SS-division Parzival?
Sadly the price includes forced huge 21% VAT Taxes &
on top of that 9.98% transaction fees.
88 pages - Download
€7.69 Taxes included
The story continues and a first veil of the mystery will be lifted. The couple Lena and Dieter are plunged into a world whose existence they never suspected. This second episode starts with a top-secret mission of Rolf Dietrich to Scotland in the early days of the Second World War.
An officially unauthorized peace mission is set against a jigsaw puzzle of covert espionage operations, deception, manipulation & corruption of some powers behind the world scene. All players woke up! Nothing is ever what it seems.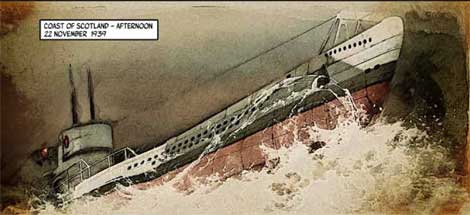 The first page of the book can be personalized. Usually your name is printed, but it can also be replaced by a short message, eg Happy Birthday or someone else's name.
NEDERLANDS Episode 2
Ontwaken
Het begon allemaal met de recrutering van Rolf Dietrich en een geheime missie ergens in Schotland … Waarom werd Dietrich lid van … tja – wat precies? en waarom was Schotland tijdens de Tweede Wereldoorlog zo belangrijk? Hoe is dit mysterie verbonden met de geboorte van de SS-divisie Parzival?
Spijtig genoeg zit in de prijs ook de verplichte torenhoge 21% BTW belasting op digitale boeken met daarbovenop 9.98% banktransactiekosten!
88 paginas - Download
€7.69 belastingen inbegrepen
Het verhaal gaat verder en een eerste sluier van het mysterie zal worden opgelicht. Het koppel Lena en Dieter wordt ondergedompeld in een wereld waarvan ze het bestaan nooit vermoed hadden. Dit boek begint met een top-geheime missie van Rolf Dietrich naar Schotland in het begin van de Tweede Wereldoorlog.
De officieel niet goedgekeurde vredesmissie wordt doorkruist door een puzzel van geheime operaties, misleiding, manipulatie en corruptie van sommige machten achter het wereldtoneel. Alle spelers zijn klaarwakker! Niets is ooit wat het lijkt!
Exclusieve

Nederlandse druk !


Deze exclusieve editie heeft een beperkte gedrukte oplage en is bovendien gesigneerd en genummerd van 1 t/m 300. Het zijn dus allemaal unieke boekjes uit de serie en zijn enkel in de webwinkel verkrijgbaar.
Bestel het begin van de Maier-geheimen en plaats het in je collectie. Je steunt op deze manier ook de verdere productie van de hele serie.