Scroll naar beneden voor Nederlands
The new stunning follow-up to the Prequel and episode 2, Awakening, of the Maier Files series. The story continues with the first mission of division Parzival as it takes an unexpected turn. The path of the squad of soldiers crosses a secret cargo train, S-44. An event that will lead to a frantic hunt.
Sadly the price includes forced huge 21% VAT Taxes &
on top of that 9.98% transaction fees.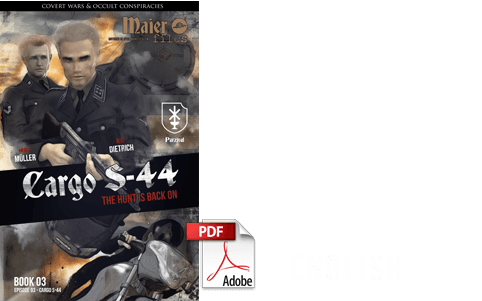 48 pages - Download
€5.99 Taxes included
Who can be trusted in a world that's been fueled by corruption and greed? A dangerous adventure into veiled histories! Lena & Dieter will need to find their way through a maze of machinations where nothing is what it seems.
A hidden history that seems to drag the couple towards a single, inconceivable truth and a long-lost world of esoteric wisdom. Prepare for action and adventure. Are you ready? …
The first page of the book can be personalized. Usually your name is printed, but it can also be replaced by a short message, eg Happy Birthday or someone else's name.
NEDERLANDS Episode 1 De Erfenis + De Inwijding
Episode 0 De Erfenis + Episode 1 De Inwijding samengebundeld
Ze lagen al enkele decennia stof te verzamelen, maar een paar tortelduifjes, genaamd Dieter en Lena, haalden ze boven: de Maier-dagboeken. Ze gingen niet dood aan hun nieuwsgierigheid, maar maakten ongewild wel een paar kwade honden wakker. Dat is tenminste wat onze held Rolf Dietrich – of is het Rolf Naumann ? – te vertellen heeft over de mannen die een ongezonde interesse in die dagboeken hebben.
Spijtig genoeg zit in de prijs ook de verplichte torenhoge 21% BTW belasting op digitale boeken met daarbovenop 9.98% banktransactiekosten!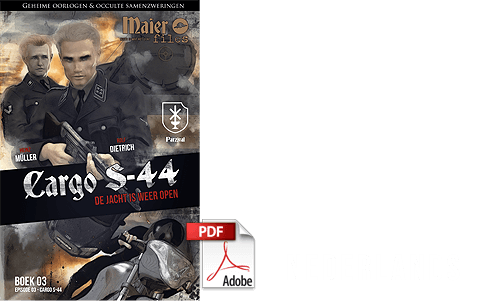 48 paginas - Download
€5.99 belastingen inbegrepen
Episode 1 in de serie De Maier-Files introduceert de spelers en legt meteen een intrigerende oude vete bloot, een vete tussen duistere machten. In "De Inwijding" raken majoor Rolf Dietrich en zijn divisie zodanig verstrikt in een web van intriges dat ze alleen nog op elkaar kunnen rekenen.
Niets is ooit wat het lijkt. De Maier Files, waar het onverwachte, het onbekende en de ongelooflijke samenkomen … Een verborgen geschiedenis van de geheime oorlogen, politieke samenzwering, hekserij en fraude met slechts één doel: persoonlijke macht en heerschappij!
We kunnen digitaal drukken
De openingspagina van het boek kan gepersonaliseerd worden. Gebruikelijk wordt uw naam gedrukt, maar deze kan ook vervangen worden door een korte boodschap, bv. Gelukkige verjaardag of iemand anders zijn of haar naam.