Scroll naar beneden voor Nederlands
The new stunning follow-up to the Prequel and episode 2, Awakening, of the Maier Files series. The story continues with the first mission of division Parzival as it takes an unexpected turn. The path of the squad of soldiers crosses a secret cargo train, S-44. An event that will lead to a frantic hunt.
Sadly the price includes forced huge 21% VAT Taxes &
on top of that 9.98% transaction fees.
48 pages - Download
€4.99 Taxes included
Who can be trusted in a world that's been fueled by corruption and greed? A dangerous adventure into veiled histories! Lena & Dieter will need to find their way through a maze of machinations where nothing is what it seems.
A hidden history that seems to drag the couple towards a single, inconceivable truth and a long-lost world of esoteric wisdom. Prepare for action and adventure. Are you ready? …
The first page of the book can be personalized. Usually your name is printed, but it can also be replaced by a short message, eg Happy Birthday or someone else's name.
NEDERLANDS Episode 3 Cargo S-44
Ontdek wat er met Lena Mueller gebeurde nadat ze op brute wijze werd ontvoerd. Cargo S-44, boek 3, is het nieuwe spannende vervolg op de reeds verschenen Prequel en episode 2, Ontwaken, van de Maier Files reeks. Duik mee verder in het verhaal, dat een onverwachte wending krijgt met de eerste missie van de divisie Parzival. Het pad van het nieuwe peloton kruist een geheim treinkonvooi, S-44. Een gebeurtenis die zal leiden tot een hectische jacht…
Spijtig genoeg zit in de prijs ook de verplichte torenhoge 21% BTW belasting op digitale boeken met daarbovenop 9.98% banktransactiekosten!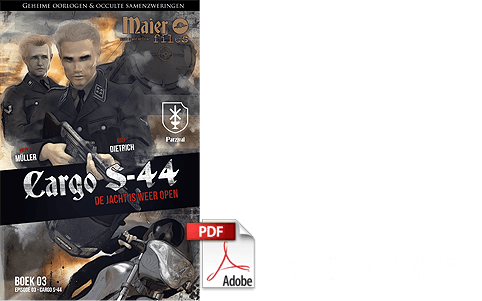 48 paginas - Download
€4.99 belastingen inbegrepen
Wie kan je vertrouwen in een wereld die gevoed wordt door corruptie en hebzucht? Een gevaarlijk avontuur in een versluierde geschiedenis! Lena & Dieter zullen hun weg moeten zoeken door een doolhof van gekonkel en intriges, waar niets is wat het lijkt. Een verborgen geschiedenis die het tweetal zal meesleuren richting enkele voor hen onvoorstelbare waarheden en een lang verloren wereld van esoterische wijsheid. Ben je er klaar voor?
We kunnen digitaal drukken
De openingspagina van het boek kan gepersonaliseerd worden. Gebruikelijk wordt uw naam gedrukt, maar deze kan ook vervangen worden door een korte boodschap, bv. Gelukkige verjaardag of iemand anders zijn of haar naam.