Scroll naar beneden voor Nederlands
Embarking on a chilling journey, the brilliant scientist Otto Maier must try to save his friend Oskar Gross.
Maier realizes that the only way to do that, is to plunge headlong into the clandestine world of an underground banking elite, hidden history, and the most powerful political machinations.
Sadly the price includes forced huge 21% VAT Taxes &
on top of that 9.98% transaction fees.
52 pages - Download
€6.89 Taxes included
Otto Maier's struggle is matched only by his passion for Truth.
"What is historical or "suprahistorical" passes little by little into history. But legends do not concentrate on recounting recent events as a historian would. To put this into perspective, we have to speak of fantastical deformation and the poetic. But this "poetry" is perhaps more true than modern historic descriptions, because legend is the veritable soul of a people which explains the decisive forces that have determined its past. Its role is to conjure images and not to describe absolute events but the fateful pressures that produced them."
– Karl Robert Eduard von Hartmann
The first page of the book can be personalized. Usually your name is printed, but it can also be replaced by a short message, eg Happy Birthday or someone else's name.
NEDERLANDS Episode 6 Unternehmen Kelch
Vertrekkend op een adembenemende reis, moet de briljante geleerde Otto Maier proberen zijn vriend Oskar Gross te redden. Maier realiseert zich dat de enige manier om dat te doen er in bestaat helemaal onder te duiken in de clandestiene wereld van de ondergrondse bancaire elite, verborgen geschiedenis, en de sterkste politieke machinaties
Spijtig genoeg zit in de prijs ook de verplichte torenhoge 21% BTW belasting op digitale boeken met daarbovenop 9.98% banktransactiekosten!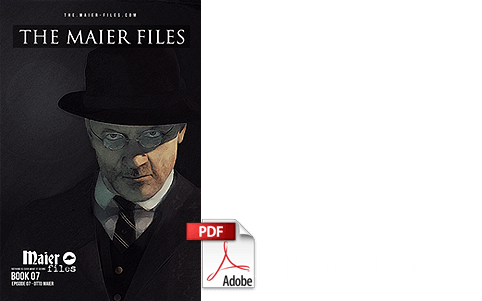 52 paginas - Download
€6.89 belastingen inbegrepen
Otto Maiers strijd wordt slechts geëvenaard door zijn passie voor Waarheid.
"Wat historisch en "suprahistorisch" is, wordt beetje bij beetje geschiedenis. Maar legendes concentreren zich niet op het hertalen van recente gebeurtenissen, zoals een historicus zou doen. Om dit in perspectief te plaatsen, moeten we het hebben over fantastische misvorming en het poëtische. Maar deze "poëzie" is misschien werkelijker dan moderne historische beschrijvingen, omdat de legende de werkelijke ziel van een volk is, omdat ze de beslissende krachten verklaart die zijn verleden hebben bepaald. Haar rol is beelden creëren, niet absolute gebeurtenissen beschrijven, maar de fenomen die ze veroorzaakt hebben."
– Karl Robert Eduard von Hartmann
We kunnen digitaal drukken
De openingspagina van het boek kan gepersonaliseerd worden. Gebruikelijk wordt uw naam gedrukt, maar deze kan ook vervangen worden door een korte boodschap, bv. Gelukkige verjaardag of iemand anders zijn of haar naam.