Scroll naar beneden voor Nederlands
Scientist Otto Maier, working on a mysterious new engine in a secret nazi base somewhere in the Harz, has escaped. The man just disappeared and was never heard from again.
Sadly the price includes forced huge 21% VAT Taxes &
on top of that 9.98% transaction fees.
56 pages - Download
€7.39 Taxes included
Maier Files: Adlerflug! "We arrived at a point of no return."
Otto Maier just disappeared and was never heard from again. Preliminary investigations show that he may have had help in his breakout. Curious about what really happened?
Imagine getting the story from firsthand witnesses Frans Vleeminckx, a forced labor inmate and Traute Rose, the enigmatic member of the Witch commando H. Will dark secrets come to light? Maier files series is a journey deep into the mysterious realm and the hidden history, a place where the unknown and the unbelievable meet.
The first page of the book can be personalized. Usually your name is printed, but it can also be replaced by a short message, eg Happy Birthday or someone else's name.
NEDERLANDS Episode 4 Adlerflug
Otto Maier ging als het ware in rook op en er werd nooit meer iets van hem vernomen. De wetenschapper verdween terwijl hij aan een mysterieuze nieuwe motor in een geheime Nazi basis werkte ergens in de Harz regio.
Spijtig genoeg zit in de prijs ook de verplichte torenhoge 21% BTW belasting op digitale boeken met daarbovenop 9.98% banktransactiekosten!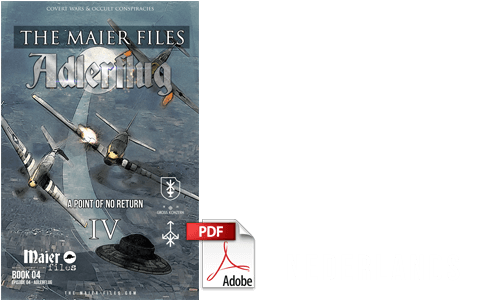 86 paginas - Download
€7.39 belastingen inbegrepen
Met Maier files Adlerflug zijn we op het punt gekomen waar geen terugweg meer mogelijk is. Otto Maier ging in rook op. Uit een eerste onderzoek blijkt dat hij hulp zou gehad hebben bij zijn ontsnapping. Benieuwd wat er werkelijk gebeurde?
Zullen duistere geheimen aan het licht komen, nu we het verhaal kunnen volgen vanuit het standpunt van de dwangarbeider Frans Vleeminckx en het mysterieuze meisje Traute Rose van het Heksencommando? Maier bestanden serie is een reis diep in de mysterieuze wereld en de verborgen geschiedenis, een plek waar het onbekende en het ongelooflijke samenkomen.
We kunnen digitaal drukken
De openingspagina van het boek kan gepersonaliseerd worden. Gebruikelijk wordt uw naam gedrukt, maar deze kan ook vervangen worden door een korte boodschap, bv. Gelukkige verjaardag of iemand anders zijn of haar naam.