Part 4 – The Occult Adepts of British Intelligence, Cecil Williamson
Another occultist who was supposed to have been involved in or connected to the Hess affair was Cecil Hugh Williamson. He is the founder of the Museum of Witchcraft and Magic at Castletown on the Isle of Man. Now it's located in Boscastle in North Cornwall. Major Edward Maltby, a family friend, recruited Williamson into MI6 in 1938. Maltby was coincidentally he brother-in-law of the famous occultist Dion Fortune.
He was in charge of a special section of SIS. This branch dealt with the unusual threat posed by esoteric and magical groups in Germany and occultists in the Nazi Party. Williamson agreed to work for MI6 as an undercover agent and before the war made several trips to Germany posing as a folklorist to collect information.
Special Executive Operation
When the war started Cecil Williamson was seconded to a specialist unit of the Special Executive Operation (SOE). This unit was based at Woburn Abbey in Bedfordshire. Churchill had ordered the formation of the SOE to work with resistance groups in Europe and organise and take part in subversion, sabotage and assassinations. Williamson worked initially with Edward Maltby. At that time a Lieutenant Colonel and assistant-director of the communications section of MI6, the Radio Security Service that Lord Tregedar (see previous post) worked for in London. Williamson's immediate boss was also an ex-Daily Express journalist Sefton Delmer. Delmer ran the Psychological Warfare Executive (PWE) involved in 'black' propaganda.
Operation Mistletoe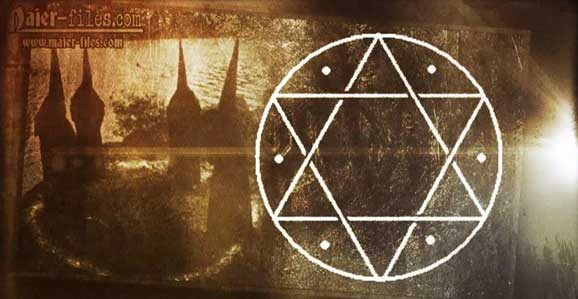 One of Cecil Williamson's most controversial claims relating to his wartime work was his involvement in an anti-Hitler propaganda exercise organized jointly by the SIS and MI5.
The Operation called Mistletoe, which may included Crowley's participation. This had taken place in Ashdown Forest in Sussex and featured a magical ritual. Its aim was to convince those in the German High Command who believed in the occult that ceremonial magicians and witches in England were working against them.
Allegedly Canadian troops took part in the 'ritual' acting as 'wizards' and wearing improvised 'robes' made from sacking and decorated with symbols from the Key of Solomon. (a hexagram) It involved also a "magick mirror" and a dummy of Adolf Hitler.
Undercover operations
According to an obituary of Cecil Williamson published in The Daily Telegraph newspaper when he died in 1999, he also carried out undercover operations with the SOE in occupied France.
As mentioned above, Dion Fortune had a link by marriage with Cecil Williamson's MI6 recruiter Major Edward Maltby. Both he and another MI6 officer, Anthony Daws, belonged to a magical lodge led by Christine Hartley, one of Fortune's students. Hartley's magical partner Charles Richard Foster 'Kim' Seymour.
Colonel Seymour
Interestingly and perhaps "highly coincidental", Colonel Seymour, an Irishman who had served in the Indian Army, took part in 'covert actions' in Iraq during the First World War. He worked mainly as a Russian translator.
Later on the War Office employed him to intercept and study enemy messages. Using his specialist knowledge his job description included investigating links between British and German occult groups.
Seymour joined the SIS and during the war he became the head of the Dutch section of the SOE.