Amalie Bruun has always paved her own path, challenging underground preconceptions of heavy metal ever since the release of her debut Myrkur EP in 2014. Her first two full-length studio albums, 2015's M and 2017's Mareridt, recast black metal in the most personal yet expansive of terms, their blending of Amalie's Danish folk roots with tempestuous internal struggles breathing new life into a subgenre whose followers can be rigidly possessive. With the release of her new album, Folkesange, Amalie Bruun has set out to journey into the very heart of the Scandinavian culture that marked her childhood. Folkesange relinquishes black metal for a refined yet far-reaching evocation of traditional folk, combining songs ancient and new to sublimely resonant effect.
Myrkur Project
Myrkur is the musical project of Danish singer, songwriter, multi-instrumentalist, model, and actress Amalie Bruun. The word translates from Icelandic to English as "darkness." The Myrkur project has become musically fluid and embraces everything from black metal to traditional Scandinavian folk. In 2015 Myrkur's debut full-length, M, was produced by Ulver's Garm, the set also included other personnel from that band as well as horns and strings. The r; traditional folk instrumentation had been added. She toured the globe on the festival circuit before returning to Denmark. She married death metal drummer Keith Abrami in 2018 and gave birth to her first child the following year.
Born in Copenhagen in 1985, Bruun is the daughter of musician/producer Michael Bruun and professional lyricist Mette Amtoft. She made her recorded debut in 2006 with a self-titled album of pop songs written with her father.
New York
Two years layer, she wrote the motif for the Danish edition of the documentary opera Paradise Hotel entitled "If You Give It Up." In late 2009 she relocated to New York City, joined the band Minks, and continued her solo career with 2010's "Branches." She left Minks to join Ex Cops a year later. After the 2012 solo single "Siren," she focused on Ex Cops for a time. They released the albums True Hallucinations (2013) and "Daggers" (2014). Bruun also worked as a fashion model and starred in a Bleu de Chanel ad directed by Martin Scorsese.
In early 2014, Bruun created a new identity and undertook a radically different musical direction: Black metal. As Myrkur she signed to Relapse Records and issued her seven-track, self-titled debut EP in September.
Given the unusual production, mysterious title, and intense music, it naturally drew media attention, which eventually resulted in her true identity being revealed in an interview with Bandcamp where she also stated that Norwegian black metal bands Darkthrone and Ulver, as well as classical composer Edvard Grieg, were among her influences. Bruun produced and played all instruments but drums on the EP.
Black Metal
While the vast majority of black metal fans and metal enthusiasts in general celebrated the offering, it drew the ire of black metal gene purists who decried her lack of "authenticity." Fans and critics had heated discussions about the recording's merits as well a conclusive argument about the construct of the word "authenticity" in music. Ultimately, it served to bring Myrkur's music to many more listeners across the globe.
The EP was followed by the demo single "Skađi" in December. In June of 2015, a Myrkur album was announced on Bandcamp, accompanied by the digital single "Onde Børn." The full-length, simply titled M, was released by Relapse in August. Recorded in Oslo, Norway, the set was co-produced with Ulver's Kristoffer Rygg (aka Garm) and featured contributions from members of Mayhem and Nidingr, as well as horn and string players. Myrkur's first-ever live performance was headlining the "black stage" at Denmark's Roskilde Festival.
M, Myrkur
On the one-year anniversary of M, Myrkur released Mausoleum, a live recording from the Emanuel Vigeland Mausoleum in Oslo, Norway, accompanied by the Norwegian Girls Choir and former Ulver guitarist Håvard "Lemarchand" Jørgensen. The set offered stripped-down acoustic reinventions of seven songs from the previous album, a Bathory cover, and one new track.
Having worked on fresh material the previous year, Bruun went straight back into the studio in early 2017 and enlisted producer Randall Dunn. She wrote songs that mixed folk instrumentation into her melodies, including nyckelharpa, violin, mandola, folk drums, and kulning. In May, a video clip of Bruun playing the nykelharpa and singing was released, followed by another live-in-studio snippet when the album's title, Mareridt, was revealed. The full-length was released by Relapse in September.
Bruun married American death metal drummer Keith Abrami (Artificial Brain, Shredded) in 2018 and returned to Denmark. She gave birth to a son in August 2019. She re-entered the studio with Christopher Juul. Though she had introduced and indulged her love of traditional folk music on earlier recordings, she looked to the heart of Scandinavian culture for full musical inspiration.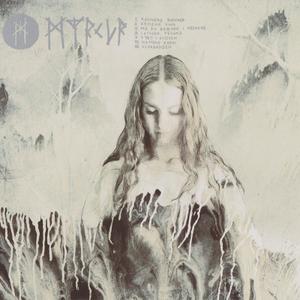 Myrkur opted to forego heavy metal altogether on her next project. Issued in March of 2020, Folkesange was a refined, far-reaching evocation of pagan folk music; it offered ancient songs and modern originals composed in the vernacular, and played on period folk instruments. It featured string-led drones, and hypnotic, elegiac rhythms. Myrkur's vibrato-less voice evoked deep-rooted, ancestral memories and spiritual associations in narrative story-songs throughout.

src. Allmusic